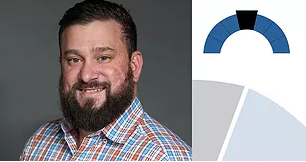 Cyberstone's mission is to provide repeatable, templated cybersecurity services backed by strong pre-sales, sales, and marketing support. This isn't just a lofty ideal. This mission is realized by the hard-working employees who come in every day, knocking it out of the park for our customers.
On this Motivation Monday, Cyberstone would like to recognize Bo Jayakumar, Channel Account Executive. Bo is a linchpin in partners' success including onboarding new partners, responding to partner inquiries, and ensuring proposals go out the door error-free and in a timely fashion.
Bo periodically calls partners just to see how they're doing, without any agenda whatsoever. At Cyberstone, we consider our team to be family. We rejoice and celebrate wins and we rally to fight challenges together. Our reseller partners are also family. We treat them like we would our mothers and fathers; with respect and love. We treat them like we would our children; with the intent to educate them, motivate them, and position them for success. We also recognize the importance of our actual families. We promote a flexible work environment so that our employees can be as great at home as they are at work.